Gaskets
Custom Made Gaskets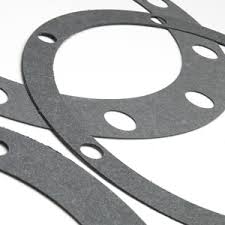 A gasket is a mechanical seal which fills the space between two or more mating surfaces, generally to prevent leakage from or into the joined objects while under compression. Gaskets allow mating surfaces on machine parts where they can fill irregularities. Gaskets are commonly produced by cutting from sheet materials.
CSS, Inc is supplier of premium, custom made gaskets and washers for the Aerospace industry. Our gaskets can be made from CORK, EPDM, FELT, FIBERGLASS, ASBESTOS, GRAPHOIL METALLIC, MIL-SPEC, NEOPRENE, RED RUBBER, SILICONE, SPONGE, SYNTHETIC, TEFLON, TOPOG-E, URETHANE, VEGETABLE FIBER, VITON®.
Different types of gaskets include CLOTH-INSERTED, COMPRESSED, DIE CUT, ENVELOPE, HOMOGENOUS, KISS CUT, METALLIC, MOLDED, ROPE, SPIRAL-WOUND, WOVEN CLOTH & TAPE.
CSS, Inc., Inc. has the ability to source custom gasket fabrication for a variety of industrial applications. Most of our products are custom designed and manufactured to meet the specifications our customers require.
Gasket Materials
Css,Inc. has experience in working with a large variety of materials to create custom gaskets for many applications. Our understanding of material sourcing and engineering will guarantee a finished product that will meet the print. CSS, Inc can provide products out of a wide varitiesof materials.
Silicone and Fluorosilicone Rubber and Sponge
Viton® or Fluoroelastomer (FKM) Rubber and Sponge
Buna N, Nitrile (NBR)
UL- Approved Materials
RFI/EMI Materials
Cork & Rubber
Fibers, Woven or Non-woven
Plastics, Teflon
Open & Closed Cell Sponge
Css, Inc offers a wide variety of high performance materials, custom fabricated to your specifications and applications.
Applications including:
Leakage Control
Shock or Noise minimization
Vibration Damping
Squeak and Rattle
Cushions and Pads
CSS, Inc, can assist you with your next project and provide you with the expertise and quality materials for parts and components that meet your exact specifications.