Metal Stampings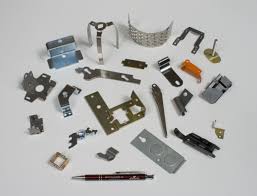 A stamped metal part is usually a component of a larger assembly.
CSS, Inc metal stampings has many processes. They include progressive die stamping, coining or shallow draw stamping, blanking, piercing, laser cutting, bending, and forming. These processes and our manufacturing operation are designed for the forming of a wide range of materials. Some of the most common metals we work with include stainless, cold/hot rolled and galvanized steels, as well as aluminum, brass, copper, and high strength low alloy steel. Our presses and equipment can form these metals in thicknesses from 0.005? to 0.188? and to tolerances of ±0.001?.
CSS, Inc's stampings precision, short-run stamping process utilizes a unique tooling method where hardened tooling components are used in conjunction with standard holders and fixtures, thereby taking the place of conventional die sets.
CSS, Inc's offers short-run stamping method offers quick turnaround times and is ideal for faster delivery of projects that take longer or do not have a high volume minimum. Short run stamping is the best alternative when it is not possible to invest a large amount of money in costly progressive tooling
Precision Metal Stampings
CSS, Inc's precision manufacturing covers a complete range of sizes up to 12″ x 12″ (flat) with thicknesses from .005 to .134 and draws of up to 3″ deep and 8″ in diameter. CSS, Inc offers many of the latest technologies and precision metal stamping manufacturing concepts to focus on providing you with quality stampings. CSS, Inc eliminates constraints to meet your delivery requirements with flexible Just-In-Time (J.I.T.) programs.
CSS, Inc provides the secondary operations you require including deburring, tapping, reaming, counterboring, and spotfacing to name a few. CSS, Inc also has vendors for heat treating and plating.
| | | |
| --- | --- | --- |
| | | |
| Custom Metal FormingCSS, Inc can produce your most complex metal forming needs in thicknesses from .005″ to .134″ | Custom Deep DrawsDraws up to 3″ deep and 8″ in diameter | Precision Metal StampingFlat blanking and piercings up to 12″ x 12″ |
| Custom Stampings | Metal Stampings | Plastic Stampings |