Rubber Diaphragm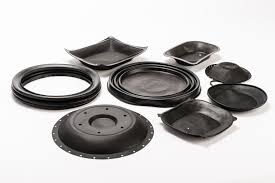 Css, Inc. rubber diaphragms are flexible seals that prevent unwanted transmission of substances between two places. These substances can be liquids, gasses or solutions. They are tough and dynamic and essential in many flow control applications. Css, Inc has full production capabilities from prototype as well as short run quantities through large production runs. Css, Inc consistently produces precision custom rubber diaphragms to meet your requirements and function perfectly within your application. The rubber molding tolerances for rubber diaphragms are complaint with rubber molding industry standard tolerances.
Css, Inc is a supplier of high quality rubber diaphragms and diaphragm seals. Css, Inc's goal for excellence has been built on our ability to provide our valued customers with the most accurate designing, engineering and manufacturing solutions to meet their applications. Our objective is to continuously exceed our customer's expectations by providing them with high performance gaskets and sealing products, competitive pricing, on-time delivery and exceptional customer service. Css, Inc works with modern manufacturing facilities along with knowledgeable, technically-oriented professionals that help us to meet all of your print specifications and tolerance requirements.
Rubber Diaphragm Industry Applications
Rubber diaphragms are essential to the operation of equipment and systems in the industrial, automotive, aerospace, oil, gas, medical instrumentation, and pump and valve industries. If a dependable and accurate response to a hydraulic or pneumatic pressure change is needed then almost certainly a diaphragm seal is required. Css, Inc is experienced in engineering and manufacturing solutions for diaphragm applications including: pumps, pneumatic diaphragm pumps, high pressure diaphragm pumps, diaphragm pressure gauges, diaphragm vacuum pumps, diaphragm air compressors, diaphragm fuel pumps, diaphragm metering pumps, actuators, pneumatic actuators, thermal actuators, wax actuators, and control valves.
Typical applications forr Diaphragms include:
Gas Meters, Regulators and Pressure Controls
Valves – Pneumatic, Control, Cylinder, Gas, Reducing
Pumps – Vacuum, Petrol, Disc
Compressors
Actuators – Air, Gas
Solenoids
Measurement systems and controls
Pneumatic Cylinder Diaphragms
Pneumatic Servo Mechanisms
Turbochargers
Switches
Accumulators – High and Low Pressure